Shenandoah Yurt is a one-of-a-kind luxury retreat perched in the serene seclusion of the mountains. You'll find no compromises with respect to premier cabin-like construction, modern amenities, a hot tub, wood-burning stove, archery, EV charger, sizable elevated deck, pool table, board games and so much more! This unique pet-friendly Shenandoah Cabin / Yurt is nestled 1 mile away (as the crow flies) from Shenandoah National Park. Experience #YurtLife — just 2 hours away from Washington DC!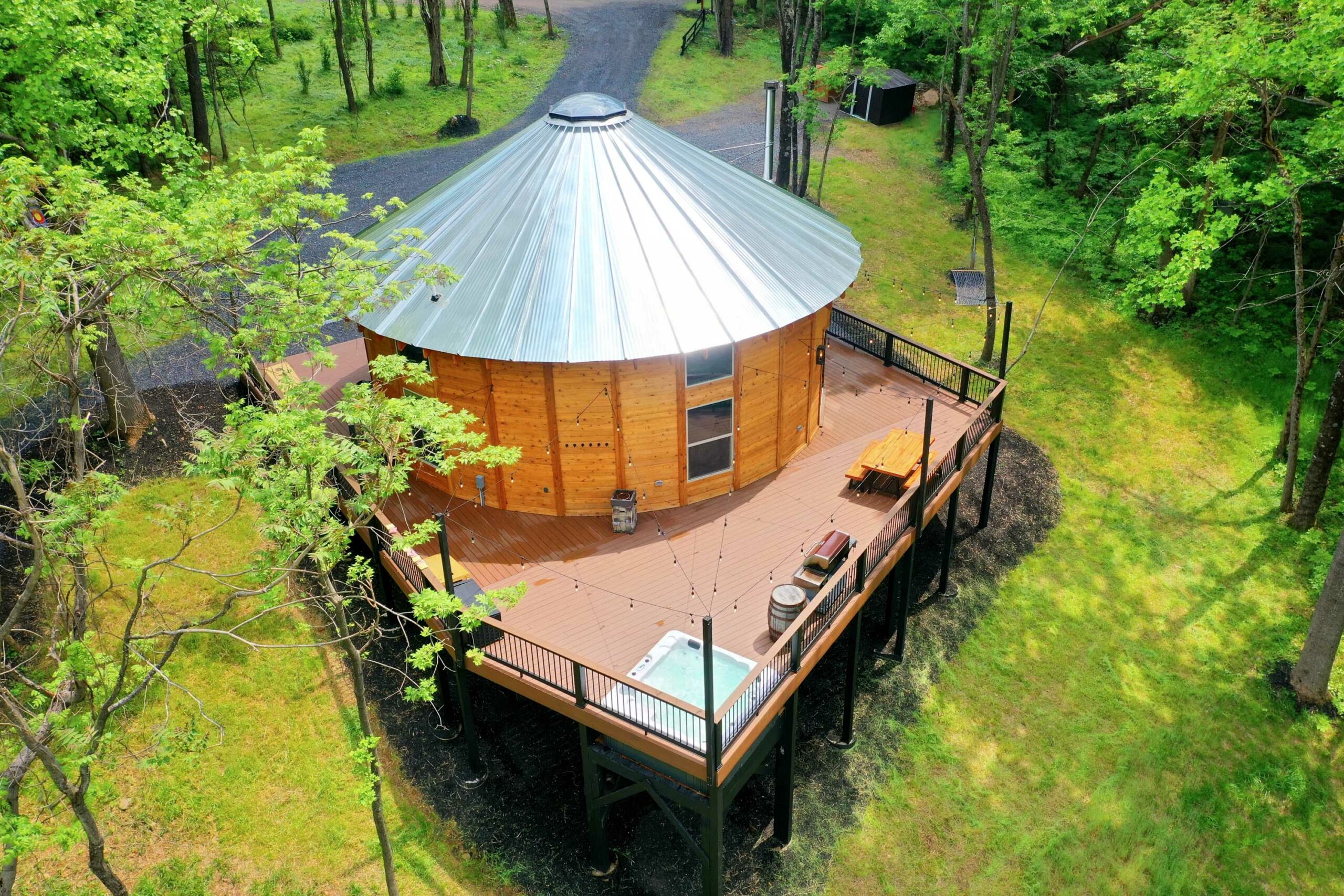 Constructed using the finest materials and significant attention to detail, this space will invite you and your family and friends to immediately make yourselves at home. Furnished with plenty of modern conveniences, the Shenandoah Cabin / Yurt sets out to provide a unique experience offering comforts akin to those of a chic boutique hotel. Whip up an omelette with the dozen fresh organic local eggs awaiting you, embrace your inner yogi with a morning routine on the large deck, or soak in the outdoor hot tub under a starry night sky—the choice is yours! As our property was designed with nature in mind, we also provide an EV charging station for those in need. All at an elevation of over 2,500 ft! 

Beyond this, the property boasts a dependable climate control system, wood-burning stove, hot tub, WiFi (full disclosure that while speed tests show up to 100mb, the internet might be intermittent due to the yurt's remote location), and a smart TV with Disney Plus and Netflix. We also have a PlayStation 5 with 4 controllers and various games, smart speakers, a dedicated workspace, a pool table, and a variety of board games. With respect to outdoor activities, please know that we also offer e-bike rentals that allow you to reach the national park in approximately 15 minutes.
Living Space & Fully Equipped Kitchen
The yurt boasts a full kitchen complete with an island, dining table, cookware, utensils, refrigerator with icemaker, dishwasher, electric stove, microwave, multicooker/rice-maker, and a Nespresso coffee machine! You'll have everything you need to engage in your morning and evening rituals, and, of course, wine glasses to sip vino during your afternoon wine and cheese happy hour!

With respect to design, the Shenandoah Cabin / Yurt features an open floor plan living room with vaulted ceilings, windows offering panoramic views, a glass dome, and a loft with a pool table. A washer/dryer combo unit is located on the main level for your convenience.
We offer powerful 750W E-Bikes for rent at $50/day per bike. You can reach Shenandoah National Park in 15 minutes without much sweat and ride the Skyline Drive and trails for hours. All black and fat-tire. All other amenities are free to use, including the Kainokai traditional handmade recurve longbow (40lb) with a 4ft target, Lever 2 EV charger, Hot Tub, Grill, Firepit, and a Cornhole game.

Loft, Bathrooms & Workspace
Shenandoah Cabin / Yurt is best suited for 4 people, as there are 2 bedrooms featuring queen-size beds. However, the yurt can accommodate up to 8 people, with a king-size sleeper sofa in the loft (listed as a bedroom as we have a privacy screen) and a large sleeper couch in the living area. Linens, sleeping eye masks, earplugs, an iron, and umbrellas are all available for your convenience.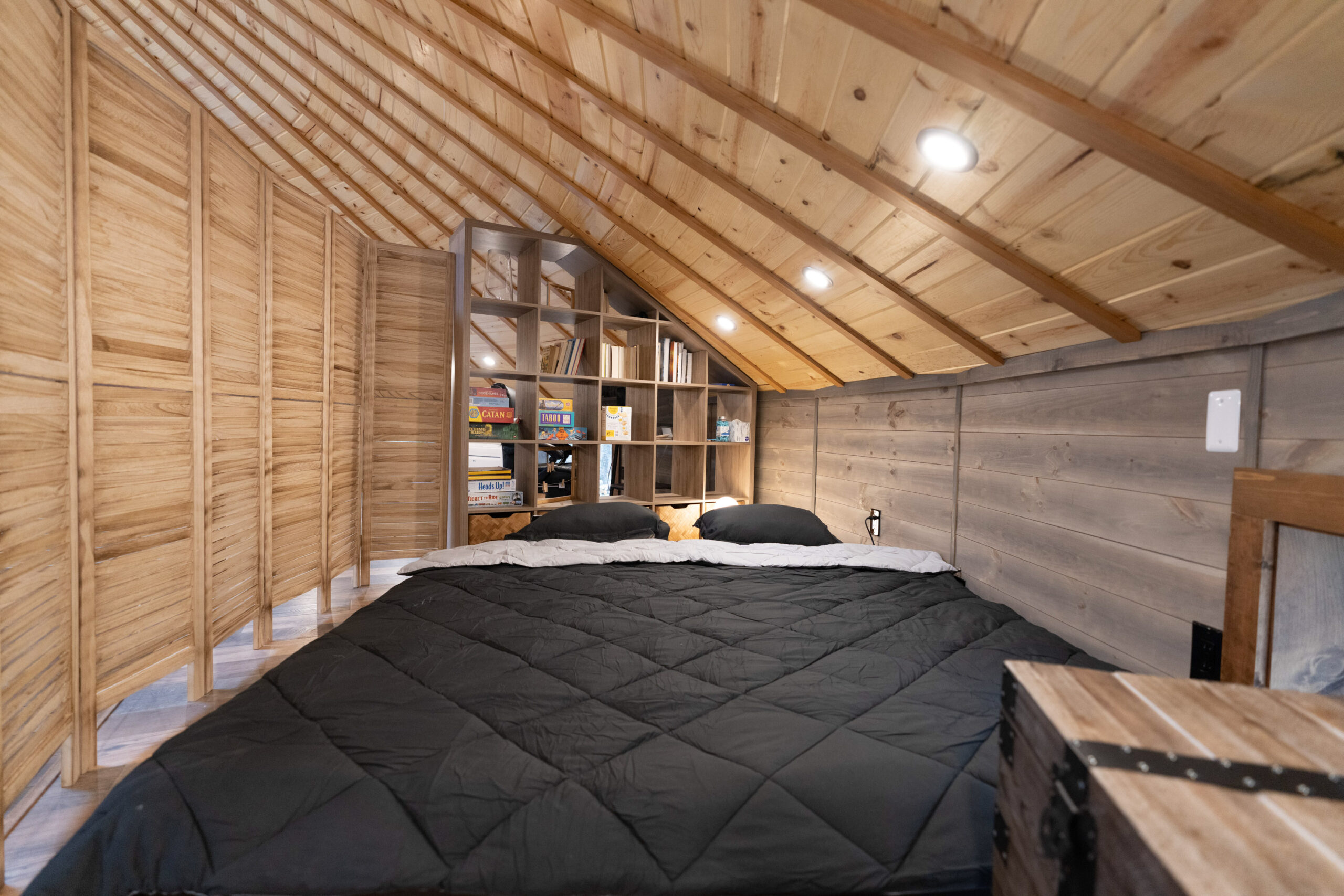 Loft
Floor Sofa transformed into King-size Bed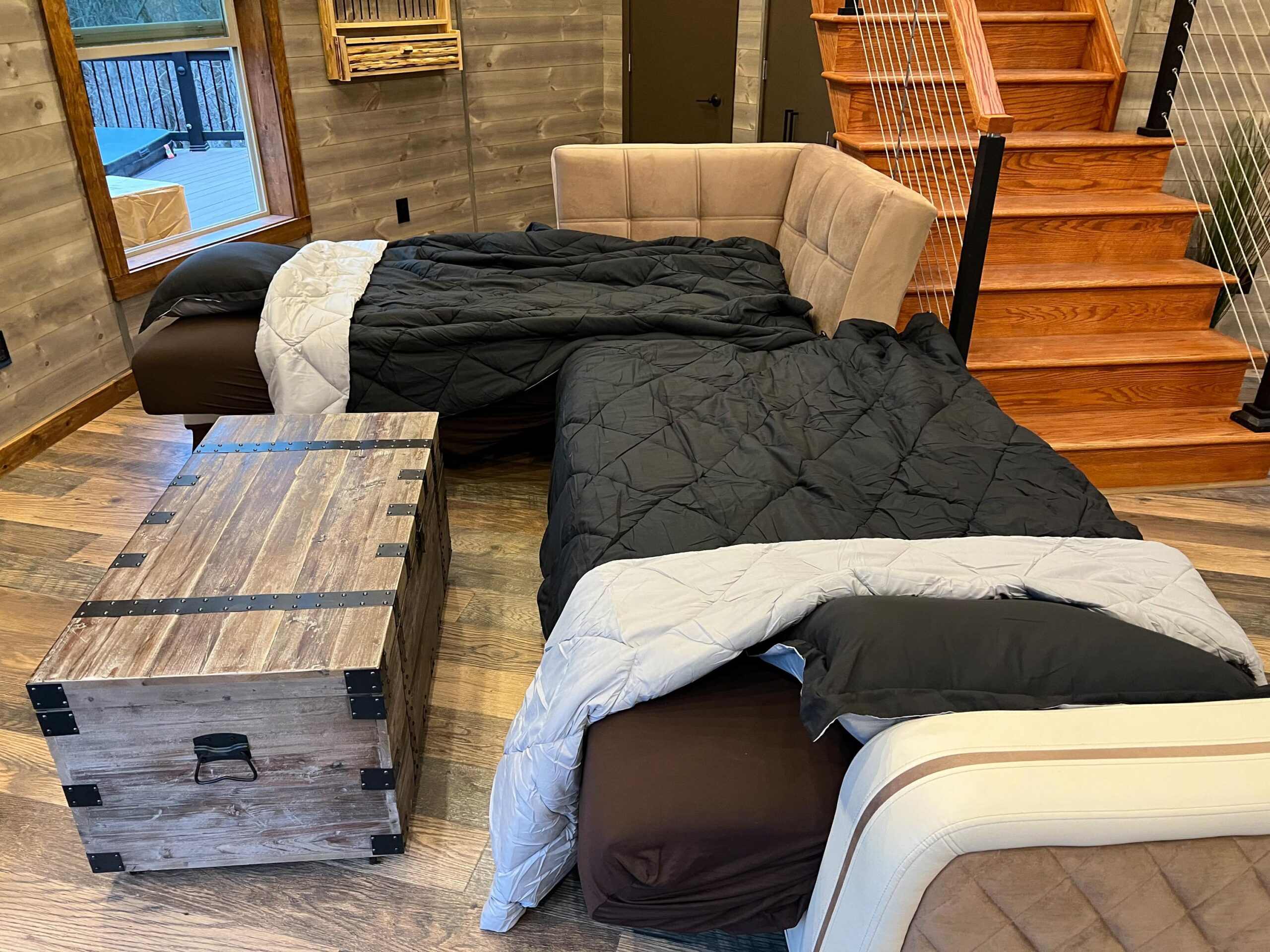 Living Room
Sofa transformed into 2 half-separate beds
Though you will enjoy complete seclusion, you are only a short drive away from popular tourist attractions during any season; with our top choices bolded for quick reference below. The Shenandoah Yurt is:
hiking time is our one-way estimate.
0h 14m – Small community lake at Lake Road
0h 42m – Shenandoah National Park boundary at Tanners Ridge Fire Road
1h 25m – Tanners Ridge Overlook
1h 30m – Mill Prong-Laurel Prong Loop Trailhead
1h 30m – Harry F. Byrd, Sr. Visitor Center
1h 31m – Story of the Forest Trailhead
1h 35m – Dark Hollow Falls Trailhead
1h 46m – Lewis Falls Trailhead
driving time is our one-way estimate.
11m – Jordan Hollow Stables
13m – Wisteria Farm and Vineyard
15m – 🚲 E-Bike ride to Shenandoah National Park via Tanners Ridge Fire Road
22m – Hawksbill Brewing Company
24m – The Garden Maze
25m – Bear Mountain Ziplines
25m – Luray Caverns
25m – Luray Zoo
28m – Castle Vineyards
30m – Drive to Shenandoah National Park via Thornton Gap Entrance Station
34m – Virginia Museum of the Civil War
35m – Shenandoah River (tubing, rafting, kayaking)
45m – Massanutten Ski Resort
Amenities & Things To Know
The Shenandoah Yurt is in the community surrounded on 3 sides by the Shenandoah National Park. It features a gravel road for the last 1mi. In snowy conditions, we strongly advise driving a four-wheel-drive vehicle. However, about 48hrs after the last snow, two-wheel-drive vehicles are usually ok. It is important to take this warning seriously, as we do not offer refunds or cancellations due to weather. Please note that there is no cellular coverage at the yurt, however, WiFi is available for your convenience.
Check-in: 4:00 PM
Cancellation policy – full refund up to 5 days prior to check-in (excluding 2.9% credit card fee). On this note, if your dates aren't available, please fill in the waitlist form or follow our Instagram for last-minute deals.
Kids – Sure! While the Shenandoah Yurt is child-friendly, it's not child-proof. The following items are available for our littlest guests: Crib, High chair, Changing table, and Silicone bibs. ❤️
Pets – Yes! Pets are permitted in or around the property with a $50 fee and pre-approval. Please send us a message confirming that your pet is well-trained.
Website issue – We're sorry for the issue… We suggest Chrome on the laptop or desktop, but you can also book on AirBNB, VRBO, and other platforms.
Mountain view
Bathroom
Hair dryer
Cleaning products
Puracy shampoo
Puracy conditioner
Puracy body soap
Hot water
Shower gel
Bedroom and laundry
Free washer – In unit
Free dryer – In unit
Essentials
Towels, bed sheets, soap, and toilet paper
Hangers
Bed linens
Extra pillows and blankets
Iron
Clothing storage: dresser and wardrobe
Entertainment
75″ HDTV with Amazon Prime Video, Apple TV, Disney+, HBO Max, Netflix
Sonos sound system with Bluetooth and aux
Game console: PS5
Pool table
Suitable for events
The listing can accommodate a gathering of 25 or more attendees
Books and reading material
Family
Crib
Children's books and toys for ages 5-10 years old and 10+ years old
High chair
Changing table
Board games
Heating and cooling
Central air conditioning
Indoor fireplace: wood-burning
Central heating
Home safety
3 Smoke & Carbon monoxide alarms
Fire extinguisher
First aid kit
Internet and office
Wifi
Dedicated workspace: monitor
A desk or table with a chair and space for a laptop.
Kitchen and dining
Kitchen
Space where guests can cook their own meals
Samsung refrigerator
Microwave
Cooking basics
Pots and pans, oil, salt and pepper
Dishes and silverware
Bowls, chopsticks, plates, cups, etc.
Freezer
Dishwasher
Whirlpool electric stove
Whirlpool oven
Hot water kettle
Coffee maker: Nespresso
Wine glasses
Baking sheet
Blender
Rice maker
Barbecue utensils
Grill, charcoal, bamboo skewers/iron skewers, etc.
Coffee
Dining table
Location features
Private entrance
Separate street or building entrance
Outdoor
Private patio or balcony
Private backyard – Not fully fenced
An open space on the property usually covered in grass
Fire pit
Outdoor furniture
Outdoor dining area
BBQ grill: gas
Parking and facilities
Free driveway parking on premises – 5 spaces
Free street parking
Private hot tub
EV charger
Guests can charge their electric vehicles on the property.
Services
Pet-friendly
Assistance animals are always allowed
Long term stays allowed
Self check-in
Shenandoah Yurt
Shenandoah Cabin
Luray Caverns
Most of our reviews are on AirBNB. Go ahead, take a look, then come back to book directly for the best price!
63 reviews on
Definitely worth it , so beautiful!
This Yurt is one of a kind one of the most unique and fun places to stay. It's really nice with all the ammenities, beautiful space, pool table, archery, hot tub, huge deck. Had the best time will definitely do it again.
We loved it ! Would love to visit again!
Beautiful spot in the mountains. Has just about everything you could possibly want for a little retreat away from the hustle and bustle of real life. My family was comfortable and rejuvenated.
This is an awesome place! My friends and I loved it. Super clean, modern and cozy. The host is flexible and very accommodating. All amenities are as described. We really enjoyed the outdoor hot tub. Love it and 100% recommend it.
Unique and beautiful setting!
This was a great stay--unique, beautiful, and so relaxing! Thank you for a beautiful and relaxing vacation!
Beautiful property, lots of things to do. Thoughtful touches throughout the home. Be sure to bring your own seasonings, otherwise well stocked with necessities.
A great outdoor experience close to DC. A fun way to spend a weekend away with friends! The property was extremely clean and everything is how described. They even left us farm fresh eggs and lots of snacks!
Existing reservation?
Please reply to the confirmation email.
All other inquiries:
contact@yurtofun.com